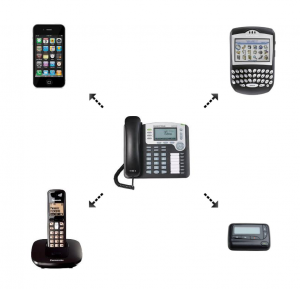 Our call forwarding service at Ansercomm gives our customers the ability to redirect calls when needed.
Stay connected wherever, whenever. Our sophisticated and efficient technology systems enable us to forward calls to your business line, home phone, mobile phone, PDA, or pager, whenever you want, wherever you are, so that you never miss an important message.
Our call forwarding service may be the solution you have been looking for, if it's import to you to stay connected when your away from the office.
Benefits of Call Forwarding
Forward calls automatically to multiple numbers, such as your home, mobile or office phone
Simultaneous or sequential order ringing configuration
Define the amount of rings before calls forward to another device
Many of our clients use call forwarding to improve customer service and stay connected to their customers around the clock. Contact us today to see how Call Forwarding or possibly one of our other service fit your needs.